Online vs Airports – The future of Duty Free shopping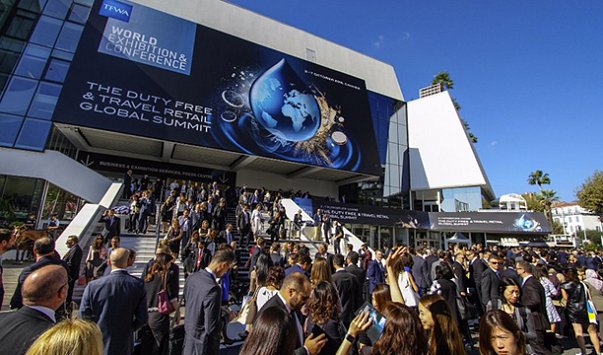 By Claire Scannell
This week, we've traded the unpredictable London weather for the sunny shores of Cannes for the TWFA World Exhibition and Conference, which is now well underway. We thought that given the very topical backdrop, it would be a wise time to take a look back at the evolution of Duty-Free Shopping, examine the state of play now and use this information to make a few predictions on the future of this heritage staple of the airport travel experience.
Since the first store opened its doors in Shannon airport over 70 years, Duty Free shopping has been one of the perks of the journey through the airport. Whether it's a bottle of booze to take on the trip, stocking up on gifts and cosmetics or just browsing for a pre-holiday treat, there's something utterly gleeful about a wander around the Duty-Free store.
However, as internet shopping has now become so engrained into our lives, the ability to be able to easily track down the best deal, or at least have an honest understanding of what something is worth is now expected. Shoppers are now savvier than ever about what constitutes a good deal, and therefore are less likely to blindly buy, and more likely to shop around.
"Gone are the days when duty-free retailers could lazily rely on consumers to freely spend their cash in airports. The rise of online shopping has forced them to become much more creative when it comes to generating sales."
Should airport retailers be nervous? According to some studies, it's actually the opposite. "Duty-free shopping is set to reach $64 billion in total revenue by 2020 and more than two-thirds of international travellers make purchases from duty-free stores."
So with the desire for duty free still firmly in place, what are the two main considerations when thinking about its future?
Investment into upgrading the shopping experience. We can actually take what's currently happening with the High Street and hold a mirror up in order to establish what shoppers are now expecting, or demanding of their physical retail experience. A simple physical transaction is no longer enough; if customers are going to leave their cosy couches and step out into the real world, they want to be rewarded for that. This has formed a new type of 'experience economy' where in order to retain brand loyalty, retailers must invest into the "evolutionary progression throughout the entire customer journey, engineering seamless experiences that envelope the consumer in beautiful retail environments that entertain, provide escapism and relevant education" The Retail Experience Economy
Should be we viewing the airport space as a similar idea? Just because we have a captive audience doesn't mean we should be resting on our laurels and expecting shoppers to come to us. We need to think about the connection that customers may or may not already have with these brands in a digital or mobile capacity, and continue to create smart ways to interact with them.
Remember the edge. Comparisons to locations such as the High Street can only get us so far. It's important to remember that the airport is a completely unique environment in a lot of different ways. We know for a fact that people undergo a shift in mind-set when they enter 'holiday mode', with "73% lik[ing] to treat themselves to indulge at the airport." Advertising can play an influential and immediate part in this mind-set shift with "70% of global shoppers admit[ting] they would be encouraged to visit the airport shops after seeing advertising for products available in the airport." Perhaps the allure of the giddy holiday mind-set it simply more powerful than the desire to always get the best deal, with the idea of the Experience Economy playing a big part in this.
If brands within the Duty-Free arena continue to prioritise providing a great experience for their customers alongside the great prices that inherently accompany Duty-Free shopping, it would appear that there's no reason to worry about the stores being empty in favour of thousands of passengers packed into seats shopping for perfume on their phones. Instead, by recognising the value of a customer's presence within a physical store at key moments along their airport journey, advertisers can forge stronger and more meaningful connections with consumers than ever, and still offer them a great deal.