Cut through the clutter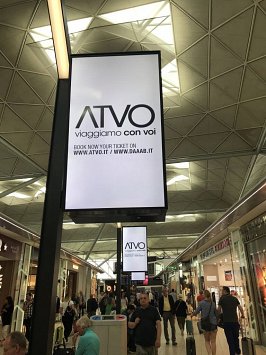 How onward travel companies can reach the right customers, at exactly the right time.
Venice coach company ATVO Spa wanted to ensure that they were the onward-travel provider of choice for holidaymakers traveling from London Stansted to either of the city's airports. Flooded with choice upon arrival and without the urgency or foresight required before you start your journey, we determined that a tactical and hyper-efficient campaign in Departures was the best way to meet their overall objectives.
By analysing flight schedules and utilising the flexibility of day-part technology on the digital network we were able to target the exact passengers ATVO Spa were hoping to reach. The creative was only pushed live when a flight was scheduled to depart meaning there was no wastage and the campaign was incredibly efficient. Thanks to the extended dwell-time available in this environment and reliable Wi-Fi connectivity, the message could be both absorbed and acted upon immediately, providing customers with a useful and relevant addition to their journey.
The advantage of targeting passengers as they are about to board is that their travel plans will be front and centre of their minds, as they have already begun the journey. Plus the active, engaged and alert mind-set which is unique to the airport space is also a valuable commodity to advertisers which, if targeted in the right way, can lead to immediate action.
By working closely with ATVO Spa to discover exactly what they wanted to achieve, we were able to devise a tailored strategy which provided an effective solution for both client and end customer.
Get in touch to speak to us about our partnership approach and full service solution to meet your specific media planning, buying and advertising requirements or find out more about our work.